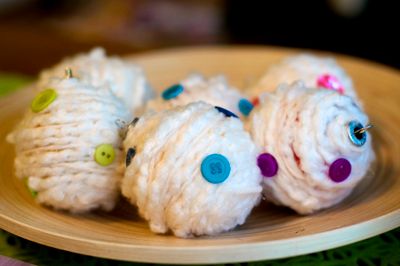 I am in love with this repurposed old ornaments
Silje
made!
I think this is an excellent idea for those old, cracked and ugly ornaments I have laying in my attic. I don't think I'm going to do it this year, but I am definitely keeping it in mind for when I have my own Christmas tree next year!!
Another tutorial I loved was for how to make
these
darling little Christmas trees out of styrofoam cones...
I think they would look great as a table centerpiece, or on top of a bookshelf or fireplace. I have a bunch of cute ideas of for decorations for one, as well.
I am trying to see if I can figure out how Elsie made
this
pretty little yarn wreath! I am in love <3 I think it would look beautiful on the wall in my room!
I adore this wreath that
Lindsay
made this weekend. It turned out amazing, and I would love to try making one myself.
Also, Lindsay is having a HUGE
giveaway
right now, so hurry over to her blog to enter!
This crocheted garland from Emalie's
blog
is sooo beautiful. I love everything about this photo. I wish I could kidnap this room and have it in my house.
I actually did make
this
cute gingerbread man ornament that Katja blogged about, but it turned out ugly as sin. I am just not good at sewing!!! Hers, however, are adorable!
I hope these cute creations inspired you as much as they inspired me <3